An adventure with a difference
Explore a world of wildlife like never before at Whipsnade Zoo, the largest zoo in the UK. Enjoy a full day of adventure making incredible memories. Experience thousands of amazing animals and learn how, as a ZSL conservation zoo, we're protecting their future.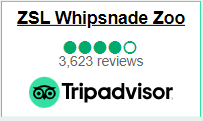 Don't Miss These!
An adventure with a difference
When you visit Whipsnade Zoo, you're doing great things with your great day out. We are more than just a zoo – we are part of ZSL (Zoological Society of London) a global conservation charity. Our teams of conservationists, scientists, technicians and community specialists are active in over 70 countries - and every visit to Whipsnade Zoo helps fund their vital work to restore habitats and protect wildlife.